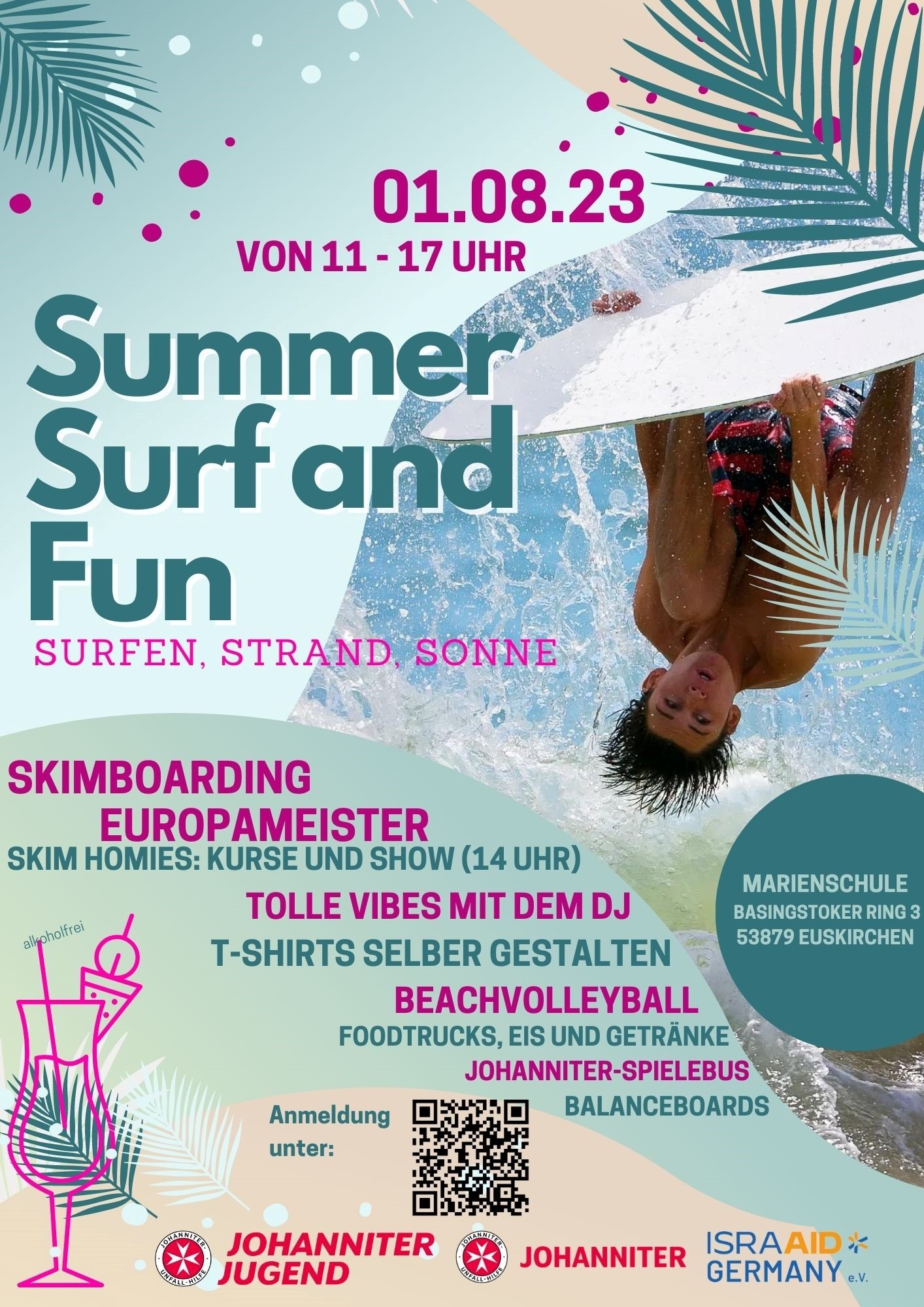 Datum
01 Aug 2023
Expired!
Summer Surf and Fun – Einladung zum sportlichen Event der Extraklasse:
Heute möchten wir alle Jugendlichen einladen zu einem sportlichen Event der Extraklasse:
Summer Surf and Fun – Einen Tag unbeschwert den Sommer feiern im Hochwassergebiet
Wann? Dienstag 01.08.2023 11:00 Uhr – 17:00 Uhr
Wo? Marienschule Euskirchen, Basingstoker Ring 3, 53879 Euskirchen
Dass Wasser nicht immer nur negativ besetzt ist zeigt eine Ferienveranstaltung an der Marienschule in Euskirchen. Das Projektbüro der Johanniter Hochwasserhilfe, in Zusammenarbeit mit IsraAID Germany und der Johanniter Jugend, bietet am 01.08.23 ein abwechslungsreiches Programm für Jugendliche. Geboten werden u.a. Beachvolleyball, T-Shirts designen und bedrucken, Spiel & Spaß mit dem Johanniter Spielebus, Foodtrucks mit Eis/alkoholfreien Getränken/und leckeren Streetfood Gerichten. DJ Fabian Bennink spielt dazu den passenden sommerlichen Sound, der von den Gästen mittels einer Playlist selbst mitgestaltet werden kann.
Das eigentliche Zentrum des Events ist ein gigantischer Skimpool, um den Trendsport Skimboarding dort zusammen mit den Europameistern ausprobieren zu können. Bei dieser Sportart werden auf einer 3-4 cm hohen Wasserschicht mit einem Mini-Surfboard Tricks, ähnlich dem Skateboarding, ausgeführt. Die beiden Meister dieses Sports, Lydia Blanke und Semjon Szillat, bieten neben einer Show um 14:00 Uhr kostenlose Kurse an diesem Tag, um den Jugendlichen ein positives Erlebnis auf dem Wasser zu ermöglichen.
Alle Infos zur Veranstaltung und Anmeldung zu den Kursen unter: https://events.johanniter.de/summer-surf-and-fun/
Kontakt: Tel.: 02241 89538 660
E-Mail: hochwasserhilfe.bonn@johanniter.de
Wir freuen uns von Ihnen zu hören und wünschen einen schönen Nachmittag.
Mit freundichen Grüßen,
Erik Heneka
Projektmitarbeiter Hochwasserhilfe
Johanniter-Unfall-Hilfe e.V.
Projektbüro Hochwasserhilfe
Altes Kloster, Erdgeschoss
Orbachstraße 9
53913 Swisttal/Odendorf
Tel.: 02241 89538 661
allg. Tel.: 02241 89538 660
E-Mail erik.heneka@johanniter.de